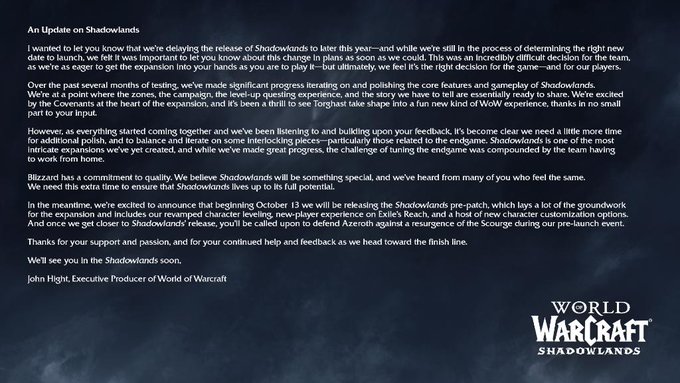 Yeah well….that's a bit poopy. I don't mind that Shadowlands got delayed, I mind that BfA got extended.
Not sure the pre-patch will save it for me, I have barely logged into WoW in the last few weeks because I am just so over this current version. I haven't received a beta invite so I can't comment on the current state, suffice it to say a lot of the people I have spoken to who are in beta have very few complaints. So either they are just an easy going bunch of people or they are not up to the parts which are a problem.
I am only slightly bitter about not having received a beta invite and I was only just saying the day before this announcement, I don't really see the point in having one now when the game was so close to release. I have changed my mind now that we don't have a release date anymore. It might be worth it. Maybe?
There are always balancing issues in a new xpac so I never expected them to be perfect on release, but I am not sure what the other problems are? Can someone enlighten me because I just see a lot of comments about "it isn't ready" with no specific things mentioned.
I do have annual leave booked which I will move to whenever the new date is, I am fortunate to have a job where I will be able to do that relatively easily. My biggest complaint is I was going to have 2 public holidays in my leave which saved me two days and now I may not have that anymore, depending on what date they pick. I am not even going to speculate on when it could be, that isn't my thing.
I just want it to be a fun game and not the drain it has become but the more i read about it the more I fear it will be just as bad as BfA. Conduits = essences which are awful and locked in for too long. Torghast = visions which were awful. Legendaries = crafting and RNG combined which makes it the worst of all options we have complained about smooshed together. Weekly chest chances = just stupid. Just stupid. Gear ilevels = just why would you force people to raid if they only want to do mythic+ but have the best gear to improve their mythic+ runs? Do you know how many arseholes are going to be looking for raid groups now or gatekeeping PUG raids.